Assessing compostability – Organic recycling of plastics in aerobic / composting conditions.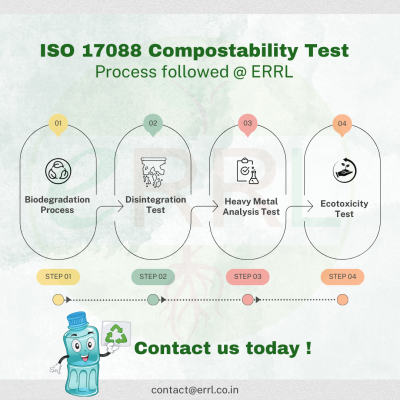 At ERRL Lab, we proudly adhere to the ISO 17088 standard, which outlines precise procedures and requirements for assessing the compostability of plastics and plastic products. Our commitment to this international standard allows us to offer comprehensive testing services for plastics that are suitable for recovery through organic recycling.
The ISO 17088 standard addresses four vital aspects that are essential for evaluating the effects of compostable plastics on the industrial composting process :
Ultimate Aerobic Biodegradation: Our testing procedures focus on determining the extent of ultimate aerobic biodegradation of compostable plastics, ensuring they decompose into harmless by products.
Disintegration during Composting: We meticulously analyze the disintegration of compostable plastics to ensure they break down efficiently during the composting process.
Heavy Metal Toxicity Analysis: We check for levels of toxic metals released during the process to determine if they will be safe for soil quality or adversely affect the environment.
No Adverse Effects on Terrestrial Organisms: We assess the compost to ensure that it does not have any adverse effects on terrestrial organisms, guaranteeing a safe and environmentally friendly composting process.
At ERRL Lab, we utilize ISO 17088 as the foundation for creating reliable systems of labelling and claims for compostable plastics materials and products. Our dedication to this standard ensures that our clients can confidently market their compostable products with complete transparency and credibility.
Lots of new age products like compostable plant based or starch based bags, bottles, plates, cards, kits, packaging materials have been tested by us for national & international clients with ease & smooth process. Choose ERRL Lab for trustworthy ISO 17088-compliant testing services and partner with us to promote a sustainable future through compostable plastics ultimately supporting circular economy.